Arrives in 3-7 Business Days
A series of clues in Spanish lead four real kids down California's famous Old Mission Trail in search of a solution to a mystery of history and hilarity!

LOOK what's in this mystery - people, places, history, and more!
Definition of missions, and their functions in the past and present Mission architecture and design Missions and the California Gold Rush Why missions were founded, and the hardships involved Indians reactions to the missions, and the effects of the missions on the Indians Father Junipero Serra's work with the missions and his burial Important facts about each mission the group visits, including information on architecture, present-day status of the mission, the bells in each mission, circumstances surrounding the missions foundings, and other distinctive trivia foundings, and other distinctive trivia Po Rico, a Spanish governor in America Secularization El Camino Real Ojo de Dios craft Mission La Pur sima Concepci-n, Lompoc Mission Santa Barbara, Santa Barbara Mission Santa Solvang Mission Snaventura, San Buenaventura Mission San Juan Capistrano, San Juan Capistrano Mission San Gabriel Arcangel, San Gabriel Mission San Fernando Rey de Espa-a, Mission Hills Mission San Antonio de Padua, Jolon Mission Nuestra Se-ora de la Soledad, Soledad Mission San Francisco de As's (or Mission Dolores), San Francisco.

This book was nominated for the prestigious 2004 Beatty Award! Like all of Carole Marsh Mysteries, this mystery incorporates history, geography, culture and cliffhanger chapters that will keep kids begging for more! This mystery includes SAT words, educational facts, fun and humor, built-in book club and activities.

Below is the Reading Levels Guide for this book:
Grade Levels: 3-6
Accelerated Reader Reading Level: 5.7
Accelerated Reader Points: 3
Accelerated Reader Quiz Number: 74565
Lexile Measure: 870
Fountas & Pinnell Guided Reading Level: Q
Developmental Assessment Level: 40

Get your FREE Resources!





1. Download the Carole Marsh Mysteries Real Kids! Real Places! Correlations to Common Core/State Standards HERE.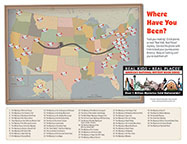 2. Download the Where Have You Been map HERE.









3. Utilize the Real Kids! Real Places! Common Core State Standards Teacher Resource for classroom discussion questions and activities for ELA grades 2-6. This can be used for all 50 mysteries HERE.







4. Download additional activities including Fact or Fiction, Fascinating Facts, Book Club Discussions and Book Club Activities HERE.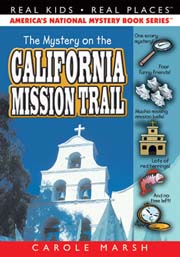 5. Want a sneak peak? Read the first three chapters HERE.
Customer Reviews